This one is about my recent trip to Bali, Indonesia which was in many ways a very unusual and spontaneous one. You see, most of the traveling I do are work related, meaning it goes one of two ways: either 24 to 72 hours of airport-hotel-studio-airport or 2 to 3 month of living in a new place/country where I try to blend in and do as locals do, so this was first time in I don't even reminder how long, when I went somewhere, for the sheer purpose of going somewhere, this was also first vacation in a really really really long time and damn, vacations are awesome, like duh …
Now, if you are traveling from NYC like me, you need to brace yourself for a long long flight of 24 hours, connections and a 13 hours time difference, so anything less then a week trip is really not worth the trouble… Besides almost everyone I know find themselves looking at there flight info, contemplating extending there trip within first 2 days, there must be something in a water…
My six or so days flew by so quickly, definitely keeping me wishing for more. More time, more adventure, more exploring, more living… but this is what I managed to see so far.
Balangan Beach
Day 1.
Started with the immediate desire to find a beach. It is January, it is somewhat 27 C ( 80s F) so you must go to the beach. I found that beaches are tricky in Bali, they are great for surfing, and if you are a surfer, you will be in heaven, but if you are a hopeless creature like me and not only do you not surf, but you are also a very poor swimmer, you may have to stick to the swimming in a hotel pools… Waves and currents are strong, so you might have to think twice before getting in a water… Getting in a water is made tricky by one more reason - trash. I have to be honest, never have I ever seen so much trash covering beach side and casually floating around the ocean, that made me incredibly sad and also served as a strong reminder of a personal accountability for plastic waste and recycling … Oceans and beaches are really not meant to be a trash can …
There is hope however, I was happy to learn about young activist sisters, who started a campaign for a plastic ban in Bali, you can learn more about them here -
www.byebyeplasticbags.org
Now after lots of searching and driving around we stopped at Balangan Beach, which was small and less crowded, but again plastic …
Sure you can stick to numerous beach clubs and enjoy there amenities but It was important for me to see an un manicured reality and I am glad I did.
Getting lost in Nook's rice fields
Day 2.
it is as cozy as the name would suggest, white interior, open space and view of a rice field, great atmosphere and yummy food what else would you want?
Monkey Forest Sanctuary, Ubud
This one I have to admit, I was a bit skeptical about, my only previous interaction with monkeys was back in Russia in a kindergarten when we all took a picture with one of them and I got to tell you we both were equally terrified…
I was really happy I did visit it in the end, the place is beautiful and in fact looks like a huge park/forest where monkeys roaming around freely, they would even try to boss you around, one of the little jokers was determent to pull my skirt off, unsuccessfully I am happy to report.
There's a temple on a grounds of this sanctuary and you will find beautiful sculptures throughout.
Monkey having an existential crisis
There are few rules when it comes to monkey encounters and they are pretty much similar to what you would hear in a NYC subway, do not display valuables, don't leave items unattended, do not eat or drink. Monkeys are quick, like really quick and sneaky, they will still your phone, earrings, glasses what have you. I personally witnessed glasses being snatched away from someone's head and a flip flop being used as a chew toy.
Other then that, it is really fun walking around,watching monkeys go on about there monkey business, they are a really cute creatures after all!
Ubud is a home to vast number of yoga studios and many many temples, so if you have time, you should stick around for a while.
Cafe Bali
Day 3.
Have a bite in cafe Bali. Cute spot with homey atmosphere so much so that plastic covers on a tables kinda make you wanna go - awww… feels like you are at someone's grandma house. Menu features local dishes and safe pasta, sandwich, salad options. Fresh juices in fact are fresh, but this is true of any places in Bali…
Pura Uluwatu
This Temple is pure magic! Perched on a side of a cliff, surrounded by endless ocean, stunning views guaranteed. I think my heart literally skipped the beat out there and I truly understood what beholding something is …
It gets pretty windy on top, but you feel that it is a good kind of wind, blowing all the troubles away, leaving you renewed …
Cliff hanger
Pura Uluwatu or Pura Luhur also a home to a kecak dance, which you can see on a temple grounds but I think you need to buy separate ticket for that.
As per usual - monkey alert.
Important thing to keep in mind while visiting any temple is proper attire, you will need to wear a long sarong, this goes both for men and women, if you didn't bring your own you could borrow one at the entrance, but I would suggest bringing your own, because you know … Also keep in mind that all of the temples are functional and are meant for worship so act accordingly.
Drinks ar Single Fin
Plenty of outdoor seating, great drinks, nice music and breathtaking views, grab a seat and let the nature do the rest.
Sunset at Single Fin
Day 4.
Get a food poisoning. While this day might not be on your agenda it is something to be aware of, since many (myself included) have fallen a pray to Bali belly …
Lie down, pray to God, contemplate life and just wait for this to be over and accept the fact that you won't be getting out that one day.
Come prepared and bring some remedies for stomach trouble, drink lots of water, hot black tea with sugar does the trick for me. However if you find yourself without needed medicine you can find charcoal pills in 7/11 and such, we use them in Russia all the time, they are completely natural and great absorbent, your best friend at the moment.
Deus ex Machina
Day 5.
For someone who doesn't know how to drive, I have a weird fondness for all things cars and bikes like watching "Top Gear" (or "Grand Tour" now) so naturally I wanted to stop by
Deus Ex Machina cafe
-
deuscustoms.com/cafes/canggu/#about
Food is not of spectacular kind, but your eyes could feast on all the custom made bikes you could find in a adjacent store or simply parked out front.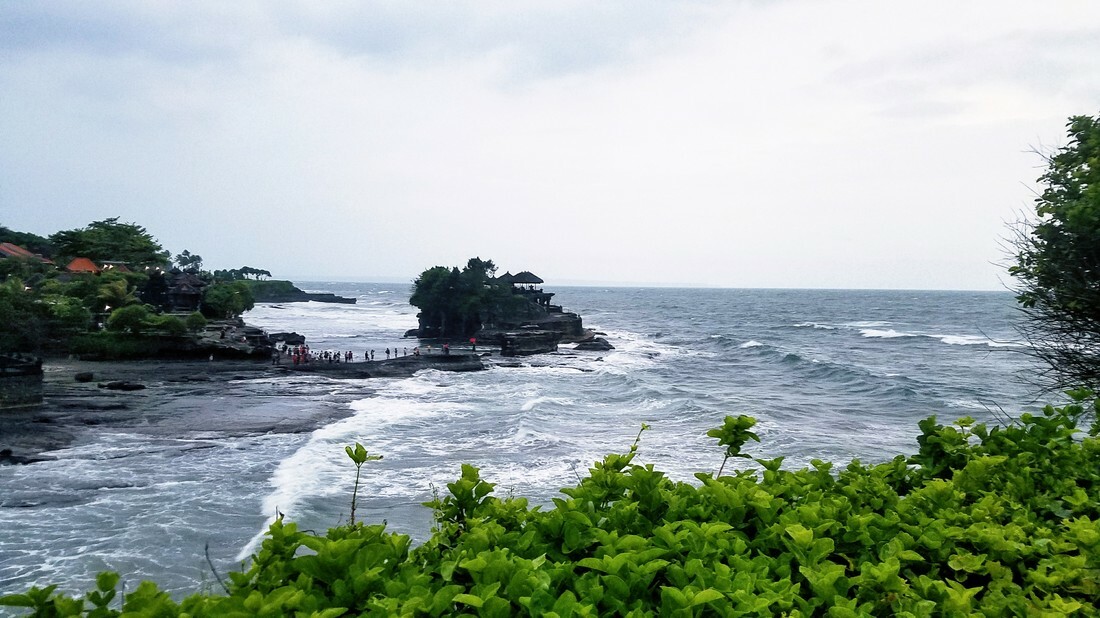 View of Tanah Lot
Another picturesque site. This small temple is located on a offshore rock. You will get wet crossing over to the temple side where you can drink from a holly spring and get "blessings" but the temple itself is closed for worship only, so it is completely your call if you want to do that or not.
This temple is heavily surrounded by various markets and gift shops, which I have successfully avoided, so can't tell you much about those, but I imagine it is busy, loud and colourful …
Tanah Lot
Ocean side views and a great BBQ that gives you a choice of various fresh fish and seafood, which can be grilled to order your way, relaxed atmosphere and beach vibes all around.
Tanah Lot
Day 6.
Bring your appetite and patience.
Healthy food spot where interior and food are equally Instagram worthy… Great Acai Bowls, beautiful presentation, but stuff is extremely slow and inattentive, get ready to wait for your food/utensils/bill for a while. Despite the slow service, I would come back again.
People waiting in line for a purification ritual at Pura Tirtha Empul
Perhaps on of the largest and busiest. This water temple is knows for it's holly spring and serves as an important pilgrimage site for many devotees.
"Holy water spring" feeds purification baths found in a main courtyard and the rest of ponds and pools..
Purification ritual is a main goal for many visitors, it is a spiritual experience so if you do choose to take part it in be aware and respectful, don't just jump in a water and wonder about.
There are man outside the pool who can help guid you through the process, they will explain the procedure, the meaning behind it and even give you an "offering' ( small dish made out of leaf with flowers, rice and incense stick ) necessary for the ritual, all you need to do in exchange is tip the man, they don't really ask for it, there's not "fixed price" but it feels like a right thing to do. I would recommend finding on of these guys ( or rather they find you) because there is a lot to keep in mind and it could get really confusing, besides you want to make sure you are doing it in a proper way.
So if you are planing on doing this cleansing ritual, please bring a change of clothes, and extra sarong because you can not wear a wet one on a temple grounds.
Taking part in Purification Ritual
There's also an inner courtyard, that is quiet and beautiful, worth taking a stroll through to gather your thoughts after the ritual… be sure to pass by koi pound on your way out, these were the biggest koi fish I have ever seen in my life.
It is somewhat tricky to find, but the location is worth it. This health oriented restaurant is overlooking rice fields and located on a farm grounds, everything is truly farm to table and you can actually see the farm right in front of you.
Cute sitting areas in a garden and in the open space restaurant. Peaceful atmosphere and beautiful sunsets …
Sari Organik
Day 7.
Last day. Catch up on shopping, souvenir or otherwise. I simply roamed around Seminyak, checking small boutiques out in search of local designers and unique finds. Bali is famously known for its batik, so you will definitely wanna get something made of it, options are endless…
Seminyak is full of cute cafe and restaurants, so finding a lunch spot won't be hard.
It's out door staircase setting is perfect for people watching :) Lunch specials and Happy hour is also a plus.
Head down to the airport and hold back tears, you will be sad to leave this place but you will be hopeful to come back.
Bracing waters
Final thoughts:
Get a bike rental, or someone with the bike. Traffic is rather harsh and roads aren't that wide, so you risk being trapped in a car more, then necessary.
Uber's are available, but not really welcomed by local taxi drivers, so in many areas they won't be available. If you choose taxi service make sure they turn the meter on, trickery and bargain are usual, Blue Bird taxi seams to be the most reliable one, but if you are staying for a bit, do get a bike and don't forget to get a helmet. There is a penalty for riding without, plus it is necessary, huge coconut fell on a road right in front of our bike and I was really grateful I had my helmet on. If you are coming during the wet season (October-April) get a raincoat and keep it handy, it rains on and off throughout the day.
​
Use the sunscreen, even if it is cloudy outside, close proximity to equator means really high UV index, so it is best to be protected.
Count your cash twice when using a money exchange, it never hurts to double check things.
Stray dogs are roaming around, so you might wanna make sure your tetanus shot is up to date.
Do yourself a favor and get a massage or 5. Massage parlors are plenty and price is somewhat 8 to 25 $ ( they are equally good, just the ambience is different)
PuraTirtha Empul
Balinese people are very spiritual and every morning starts with prayers and placing offerings, you can find them scattered everywhere, even sidewalks and in front of shops, stores and other establishments, so watch your step, kicking it to the side would be offensive.
I had an incredible time in Bali, it felt like that place is exciting in a other dimension, where time flows in different pace and you are completely at peace and worry free…
Whatever you are seeking - you will find it there. Weather you want to go chasing waterfalls, play hide n seek in rice fields, dive into any possible kind of yoga, explore endless temples, surf, relax in a swanky beach clubs or dance through the night, you can find it all there.
So come visit! Soak up the sun, soak up the happy, soak up the free.
Happy exploring!
<3
Dinara
View from Pura Uluwatu
PuraTirtha Empul
Sunset at Sari Organik