I love NYC and I realize how incredibly lucky I am to be able to call this place home for the past 6 plus years, but living in NYC comes with the price. The city is so intense, the crowds, the constant movement, tiny apartments and never-ending hassle, this what gives you life, motivates you but at the same time it is what overwhelms you and you end up feeling like you just need a break, a reset button. Some people go to therapy, I practice japanese tea ceremony…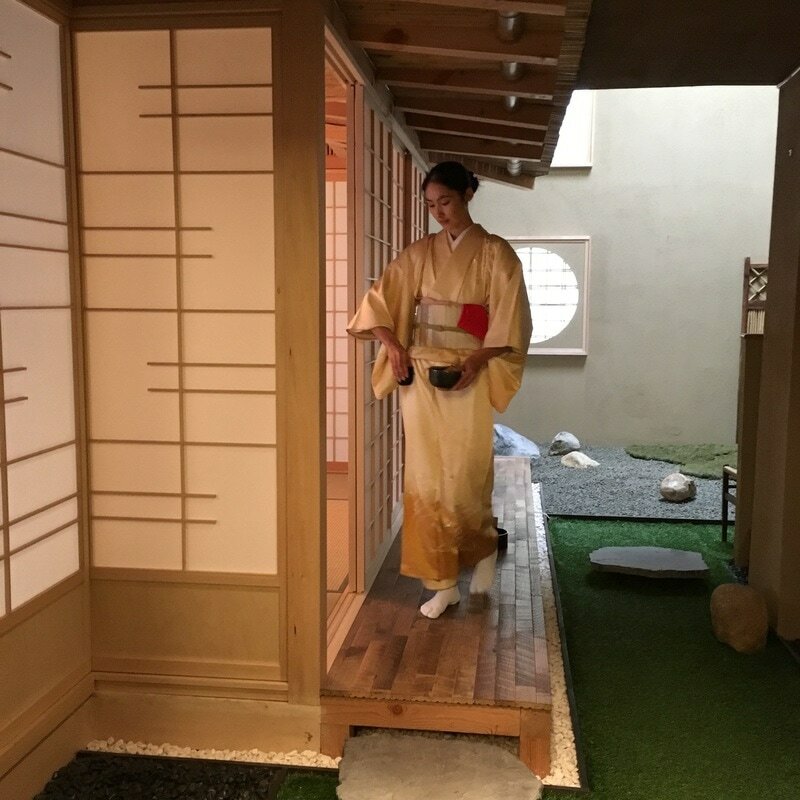 I am not gonna get into the history or describe the process in this post, I just want to share with you what it means to me, why am I doing it and how it affected my life.
Now the school I am practicing at is
"Japan Association of the Tea Ceremony " (JATC)
.
http://www.santokuan.or.jp
and unlike some of the other schools like Urusenke or Omotesenke, that were established somewhat
400th years
ago, our school is relatively young and dates back
119th years (est. 1898)
this what makes it's approach a modern one. Traditionally world of tea was very exclusive and available to noble and wealthy people, blood lines traditions were extremely important and procedure was dictated by the long list of rules and vigorous practice.
Being a huge tea lover I was always curious about tea ceremony, but this feeling of strictness and exclusiveness made me hesitant and unsure, this is why I was so happy when I discovered
Tea Whisk
-
www.tea-whisk.com
NYC based japanese tea ceremony school. From the very first trial lesson I was transported (and yes I realize how cheesy this word is) into another world, suddenly it all came together, the purpose of tea ceremony is creating a moment of beauty and sharing it with people. Since then I knew that I want to bring this feeling into my life, I wanted to be a part of it.
After my first tea ceremony with my teacher and watercolor painting I made for her.
For me practicing tea ceremony is a form of meditation, escape from busy NYC life. I leave my phone in a closet and in our gadget powered world it is an accomplishment in itself and for the hour and half that follows I am totally present in a moment, focused on what's around me. In the tea ceremony world everything has a deep meaning behind it, from greeting, to hanging scroll, to flower arrangement, to incense choice the list goes on… At the recent Hatsugama (first tea ceremony of new year) my team among other things was assigned flower decoration and the 5 of us took about 40 min deciding the best way of cutting blooming brunch, it makes you look at things differently and forces you to think deeper of the world and yourself. Every movement has a purpose, placement of each tea utensil is intentional, everything has a natural flow to it and just makes sense when you look close enough, it is quite logical and I am a big fan of logical. ​
Holding a tea ceremony for my friends
It is also about community. I have met so many wonderful people from all over the world. One of the students in our school is a ceramics artist with the studio in Brooklyn and we were fortunate enough to have an opportunity to create our own tea bowls, guided by her. That was a useful lesson in many ways, as it turned out pottery is hard, very hard and it made me appreciate the craft even more now and although I was all set on creating a very feminine delicate bowl,my clay just didn't want to go that way, so eventually I had to except the fact that I will just have to let it do it's thing and I ended up with rather big and masculine bowl.
There is a sense of camaraderie among students and at our big events such as Hatsugama or School Showcases we always come together, helping each other and looking out for each other and it feels great.
After the ceramics class in Brooklyn
Our students after the Hatsugama event
We have been lucky enough to use Globus Washitsu space - http://nycwashitsu.com
Modeled after traditional Kyoto tea houses it brings spirit of Wabi-Sabi to NYC and completes the transporting tea ceremony experience. It is also a home to number of events promoting Japanese culture (Kimono artists, Calligraphy artists, Wagashi artists, Musicians and so on)
Kimono Exhibition event at Globus Washitsu
With the real life modern day Geisha from Nara at Globus Washitsu
The heart of every school is the teacher and our master Souheki Mori is an incredible one. She loves what she does with all her heart and it shines through, her passion for beauty of tea ceremony is contagious, she keeps reminding us that when we practice or perform tea ceremony it is about experience, creating new, unique moment of harmony and sharing it with people. Like many Russian born women I have a ballet background and I am used to constant critique, every practice, every showcase people focused on technique, presentation and what you have done wrong, basically you always do something wrong, which is why this new way is so surprising to me, because our teacher never points out mistakes (even tho there are mistakes) she urges us not to get caught up in doing everything perfect and error free, rather focus on your guests and use tea ceremony as a way of showing your love and appreciation and this is what I have been trying to do with the few tea ceremonies I have been fortunate enough to host.
Assisting our teacher at special summer Watermelon tea ceremony "Deep breeze in a sea"
Happy tea drinking!
​<3 Dinara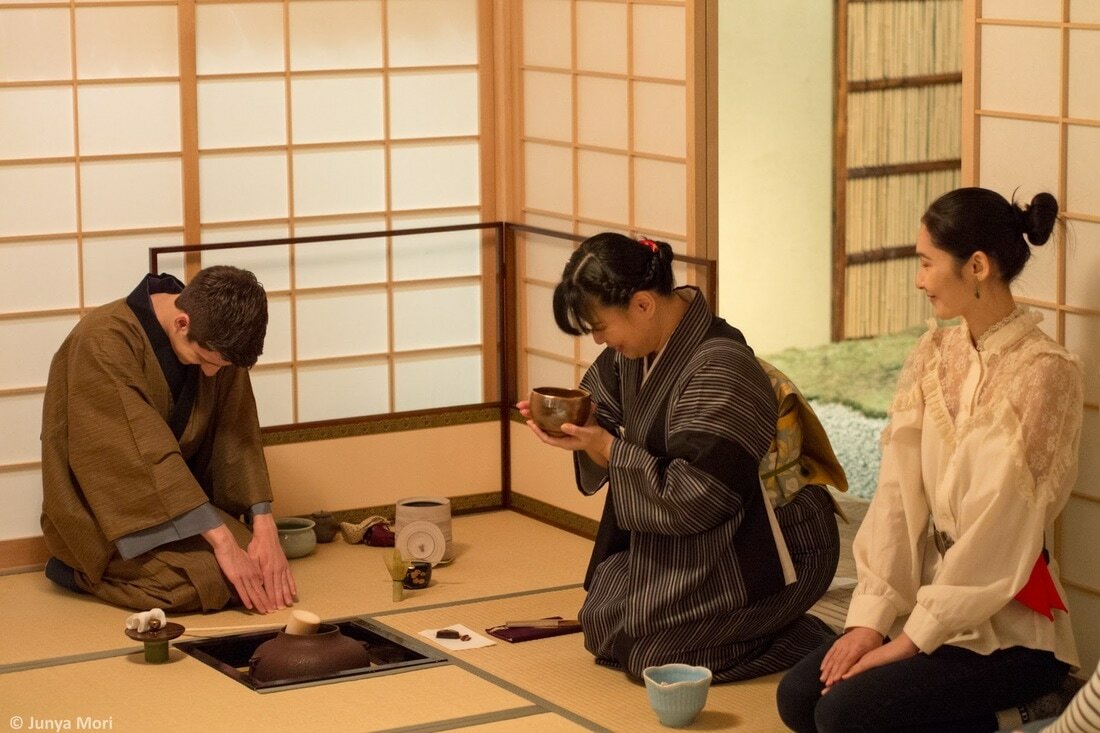 At the Hatsugama event
At the Hatsugama event
Sharing tea ceremony experience with my Mother
After Autumn tea ceremony showcase
A moment from tea ceremony I held for my friends
After Kinin Demae ceremony with friends